ERAMO is a a product system that helps users intentionally
capture, collect, and curate sentimental physical and digital artifacts to future revisiting, reflection, and celebration. I designed this with Janet Peng.
PROJECT BRIEF
Create a low-tech and a high-tech solution to a self-defined problem space. (Eramo is my high-tech solution)
DURATION
7 weeks
OPPORTUNITIES
sense-making, rendering, teamwork
Design Challenge

How might we aid intentional capturing and collecting of sentimetal artifacts for later enrichment?
Product Proposal
Form Inspiration

The two capsules Era and Amo are inspired by concave and convex surfaces. We also pursued an asymmetrical design for the top corners to avoid repetitiveness.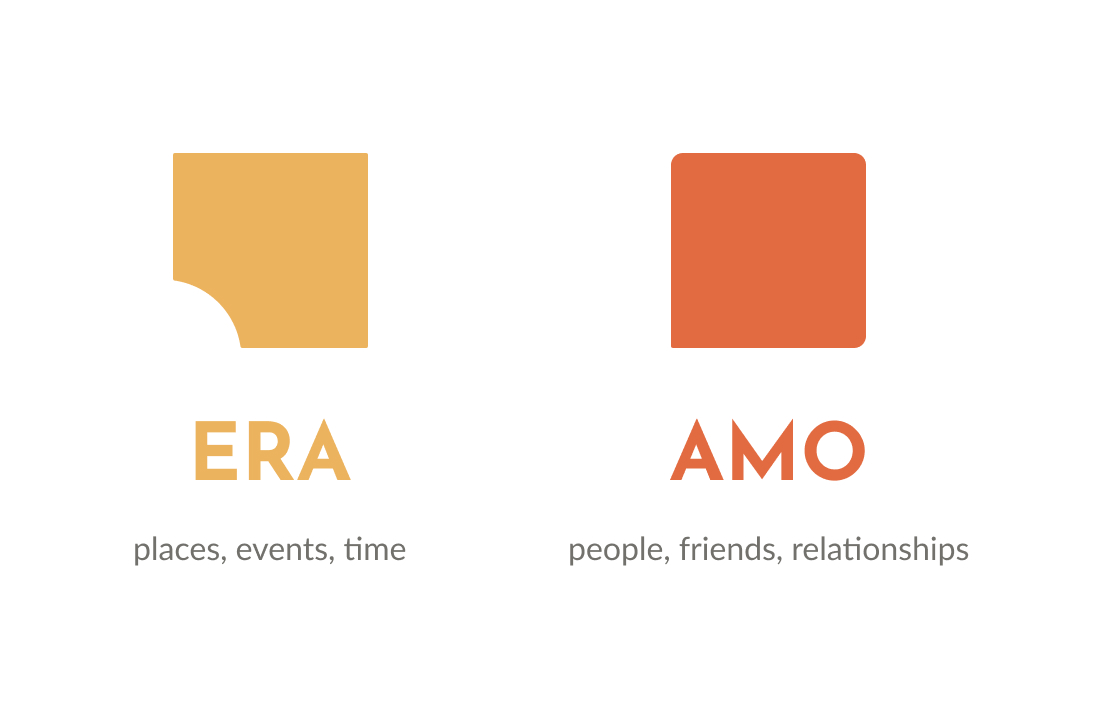 Naming

Our brand name, eramo, is inspired by "eravamo", which means "we were" "we used to be" in italian. From there, we developed two capsule forms, Era and Amo, as we found that people associate their memories with a particular time or place, or with people and relationships.
Customization
|To allow more customization and diversify home decor options, the capsules may come in 4 different materials: polymer, metal, glass and canvas fabric. Users can choose whichever material that fits into their lifestyle
Interaction

Users can put their artifacts in the capsule. The capsule body also houses a customizable foam that will allow a secure storage. Users can press down the button to retract the snap fit and release the base from the body.
Components | 2. Collecting Tools












The collecting tools are designed to help users collect, currate, and preserve their physical artifacts. A main theme of these tools is that they are all farily small in order to encourage a more material light, experience heavy collecting practice.



Components | 3. Wall Mount System
Storage

The wall mount system consists of aluminum brackets and polymer mounting plates. With this system, users can store their capsules and create an Eramo pattern on the wall.
Interaction

Users will first place brakets on the wall using screws. Then lock wall mounts in relation to the brakets. After that , uses can place capsules on the wall mount. This installment method is the same for Era and Amo.
Customization

Users can customize how they want to place the capsules in relation to each other, viewing angle, LED lights, timeline and other categorization.
Abstract Patterning

Users can customize their wall pattern by offsetting the wall mount one third at a time.












Components | 4. Eramo App
The ERAMO app allows users to set up new capsules, contribute to existing capsules, lock finished capsules, and revisit previously completed capsules.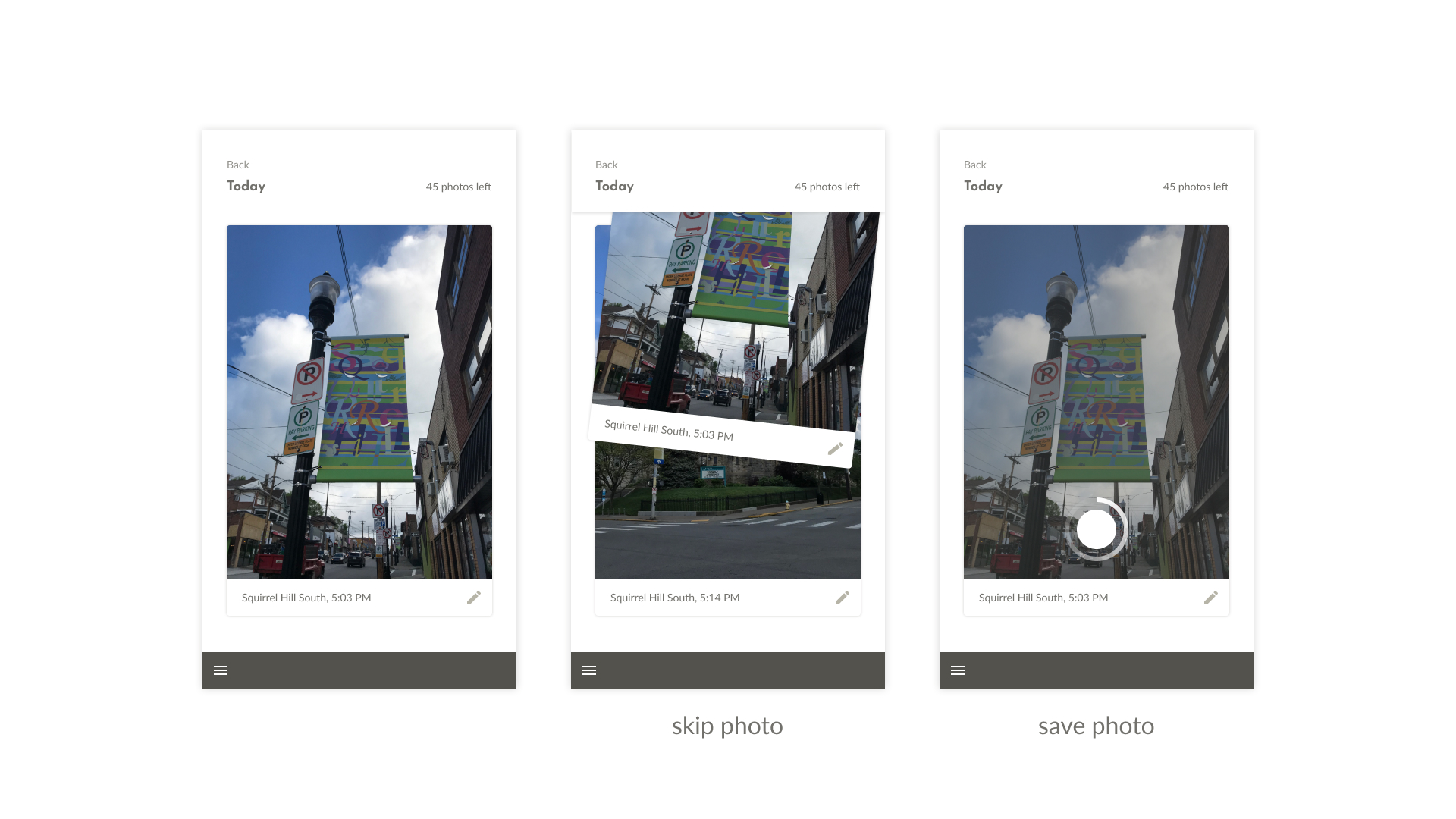 Create Capsule | Curate Content


To aid in the process of selecting photos, the ERAMO app allows users to quickly sift through photos and choose their favorites to keep. Users swipe up to skip a photo and press and hold to save a photo.

After creating a capsule, users can curate both digital and physical artifacts (in the form of photos).
Lock | Share | Celebrate

Once a curration is completed, users can lock their capsule and set a revisit date. the app and capsule will notify them when it is able to be unlocked again, through phone notifications and the capsule's LED light. Users will not be able to access the capsule from the app and from the physical capsule until the set date.

The app also allows for collaborative curation and viewing as seen in the use scenario video with Jess and Mel. Capsules can be set to unlock as a group so all owners must be synchrounously trying to unlock the capsule for it to open.

The app allows users to revisit capsules by selecting the one they want to revisit or seraching for key words or tags. This will also signal the capsules to light up from the wall mount. As seen previously how the capsule wall lit up, the app adds a celebration function to the system.

Process | Research
We conducted two types of interviews aiming to understand how people digitally capture and what digital artifacts people value. Then through more generative research, we were exposed to participants' wide variety of memory documentation styles.
Interview 1 | Photo habits (5 participants)
How do people digitally capture?
Interview 2 | Valuable digital artifacts (5 participants)
What digital artifacts do people value ?
Make tool | Creating documentation of a week (3 participants)
What and how do people want to remember?
Generative research | Physical and digital cards (3 participants)
What makes sentimental artifacts desirable?




So...What did people say? How did we incorporate these insights in Eramo?
"uhh give me like 5 years.
I can't see this high school stuff right now."
"It's so easy to take a lot of photos, yet I don't care about any of them."
"You can't copy and paste that.
(refering to physical card)"
"I want to remember who I was, what I have done, and how I got here."
Emotional distance
is needed before revisiting memories

Effort
makes artifacts more valuable and special

Physicallity
is desirable and irreplacable

Documentation
is desired for large events and the day-to-day, these collections aid memory
To encourage emotional distance, we provide a range of translucency in capsule material in case people do not want to see the artifacts inside right away. The app also allows users to lock the capsule for a set amount of time.
With our collecting tools and the digital curation, users must put in effort to personalize their artifacts.
In consideration of people's love for physical things, the majority of the eramo system takes a physical form in the house. We used tech to elevate memory preservation, not to dominate it.

With Era and Amo, users can decide for themselves what matters to them and what they want to document.



Users can also customize the eramo kit depending on their
Process | Research
documentation preferences.
Process | Visualization
CAD modeling | 3D printing
Interaction Sketches
Rendering | CMF