VINTA is a meal carrier designed for office lunch and snacking. It aims to empower users especially in intimidating formal lunch meetings.


PROJECT BRIEF
Propose a new on-the-go product experience that offers value to users' meal routine/ritual.


DURATION
7 weeks

OPPORTUNITIES
CAD, physical prototyping, user research
Part 1: Meal Carrier
To address veronica's need for a professional and elegant dining experience, the meal carrier allows her to pack salad, pasta and snack all in one carrier.









Snack
Compartment



Lid





Pasta
Compartment






Salad
Compartment


Part 2: On-the-go wrap
To transport napkins & utensil; to elevate the lunch table meal experience.
Office meal in-context
The meal arrangement gives Veronica a sense of ritual and provides an indication of the space that she is using at the table so that others feel invited.
Ciao! I am Veronica!
I am 27 years old and I am a media strategist. I recently moved to Shanghai from Milan to facilitate media marketing for my company. I am still adjusting to the "office lunch" concept.
CONTEXT
formal meals & limited space

I eat lunch with my co-workers, my assistant and sometimes even my boss at a small table. I feel the need to present beautiful and balanced meal both for myself and for those who eat with me. Because of the limited space, I also need to be aware of how much space I am using so that others feel invited to sit by me.
frequent snacking
I snack frequently. Usually around 10am and multiple times in the afternoon. I usually carry snack to my meetings and the sound of unwrapping the packaging is disturbing and sometimes perceived as rude in my workplace. I want to be able to snack more discreetly.
style & quality

I would not buy something that is not my style. I am currently using Alessi's lunchbox. Just because it has more style than an average plastic/glass Tupperware.
PAIN POINTS
transportation
Veronica takes the metro to work. All her food must be well-sealed and placed on a relatively flat surface since the metro is usually very crowded so she must carry all her belongings in her hand or on her shoulder (no space to put on the floor/seat).

discrete eating

In veronica's office, the lunch table is in the middle of an open space. People may have short meetings there at any time of the day. And since her company does not set a definite lunch break time, her co-workers come and go in this center space. Some people may still be working on this table while others are eating lunch. Socially, it is best to be discrete. For example: not taking up too much space or being able to clean up quickly after finishing the meal; not making too much noise with utensils or packaging.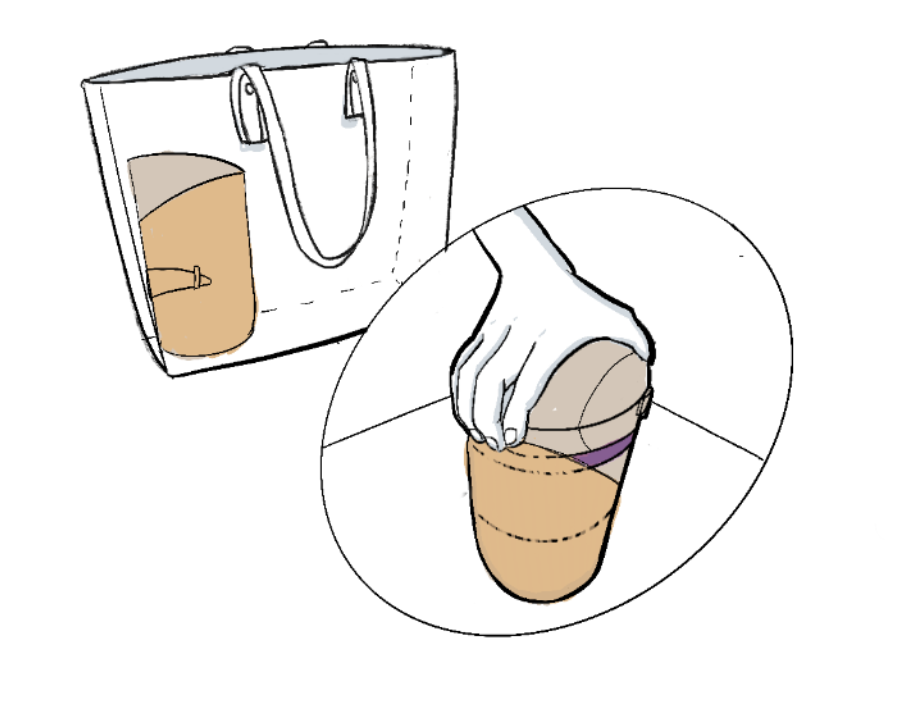 1. Transport in a handbag. Take it out of the bag with a single hand.

2. Twist to remove the snack compartment.

3. Take snack compartment to meetings. Dispense snack by lifting the lid and pouring out.
4. Store pasta & salad compartment in the fridge.







5. Unwrap when it's lunchtime.
6. Use wrap as a table mat.
7. Take off the lid. Place lid on the mat then place pasta compartment on top (twist to secure).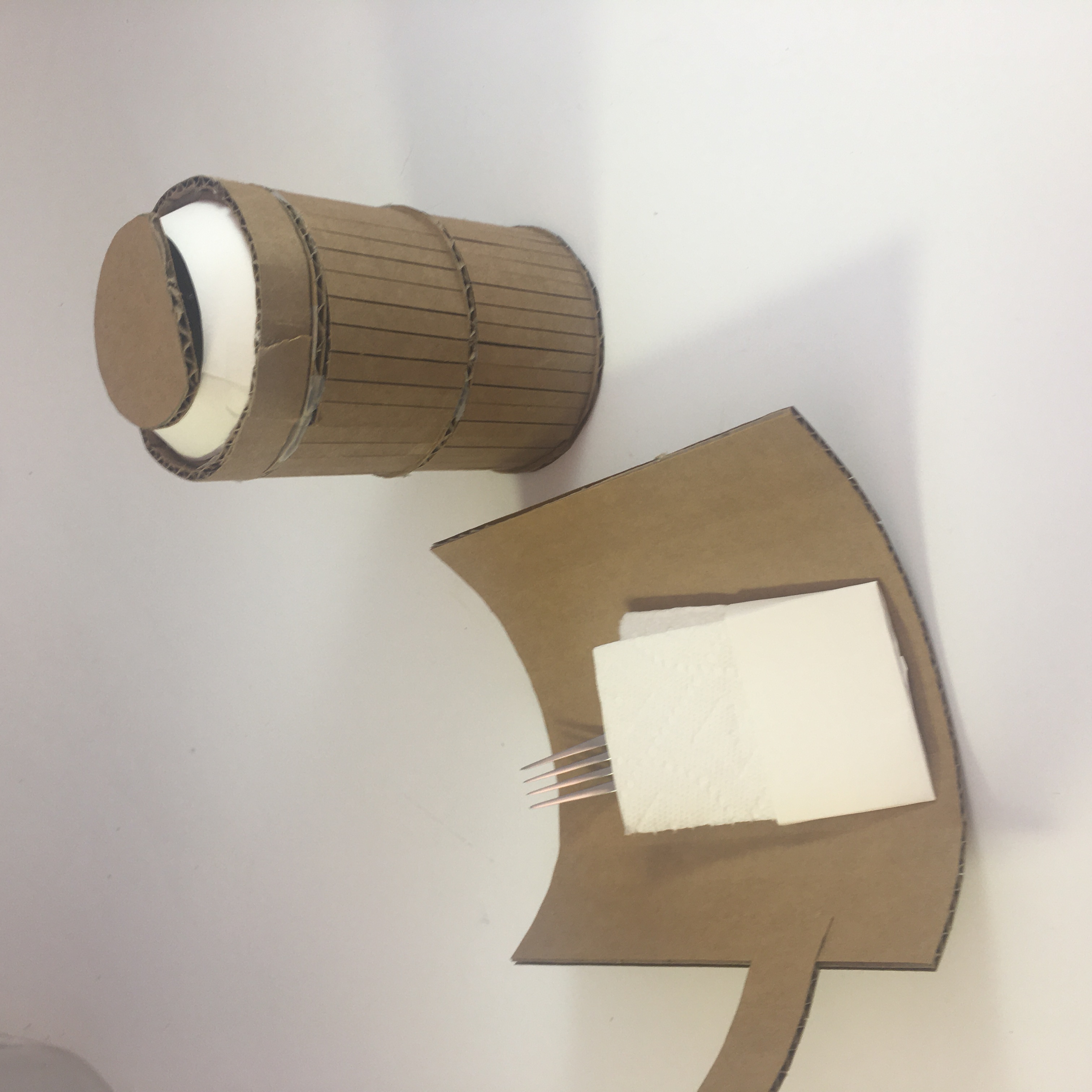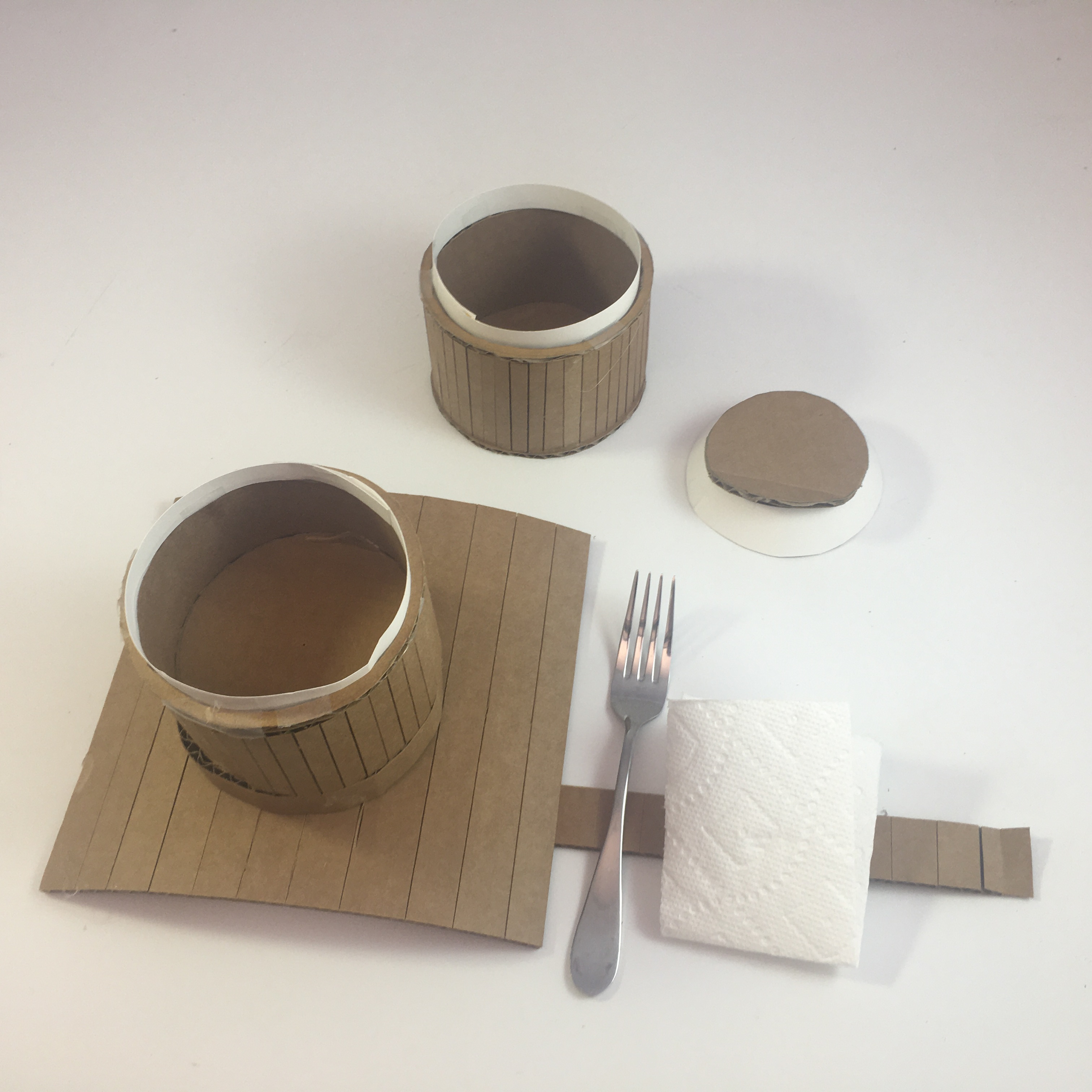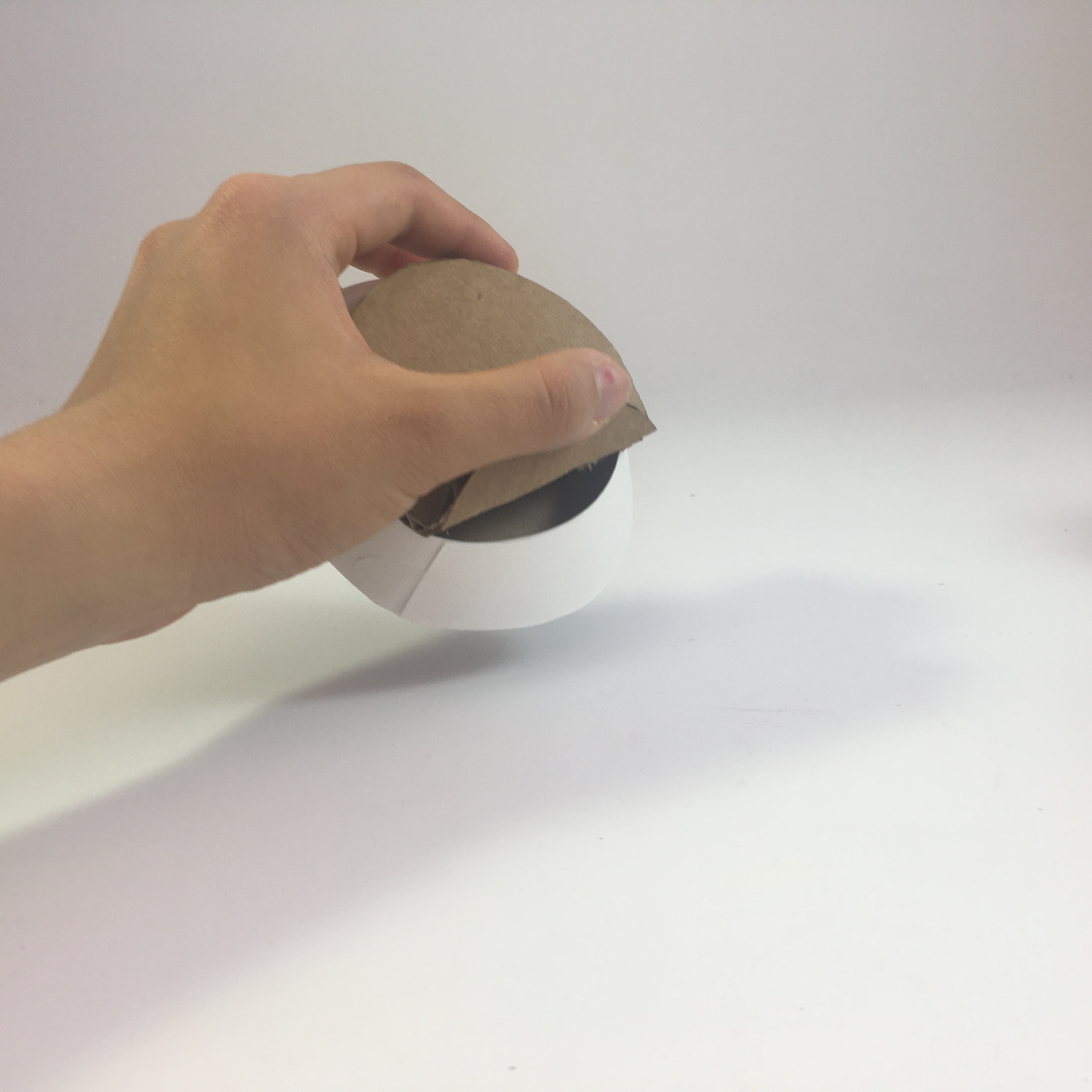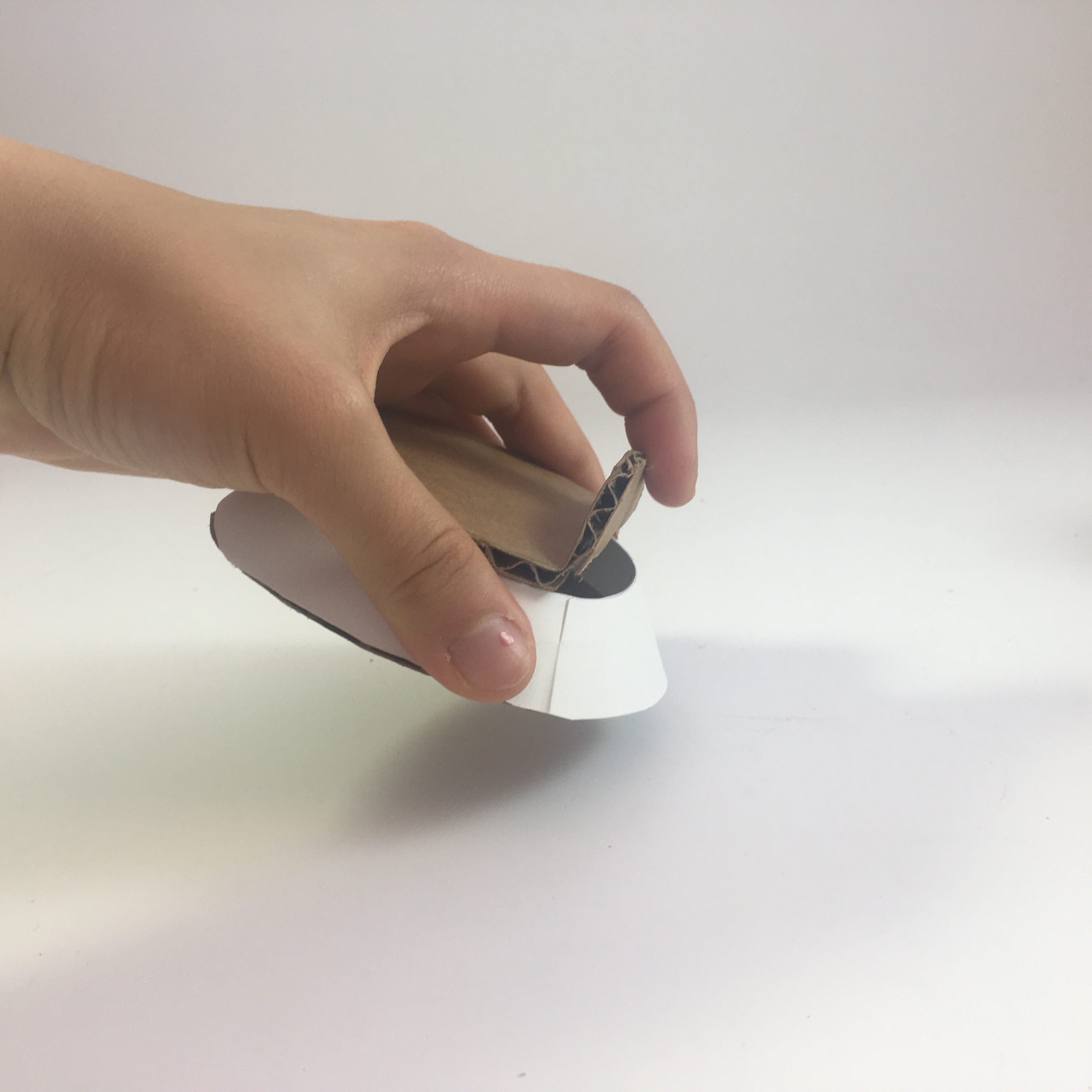 Functionality Model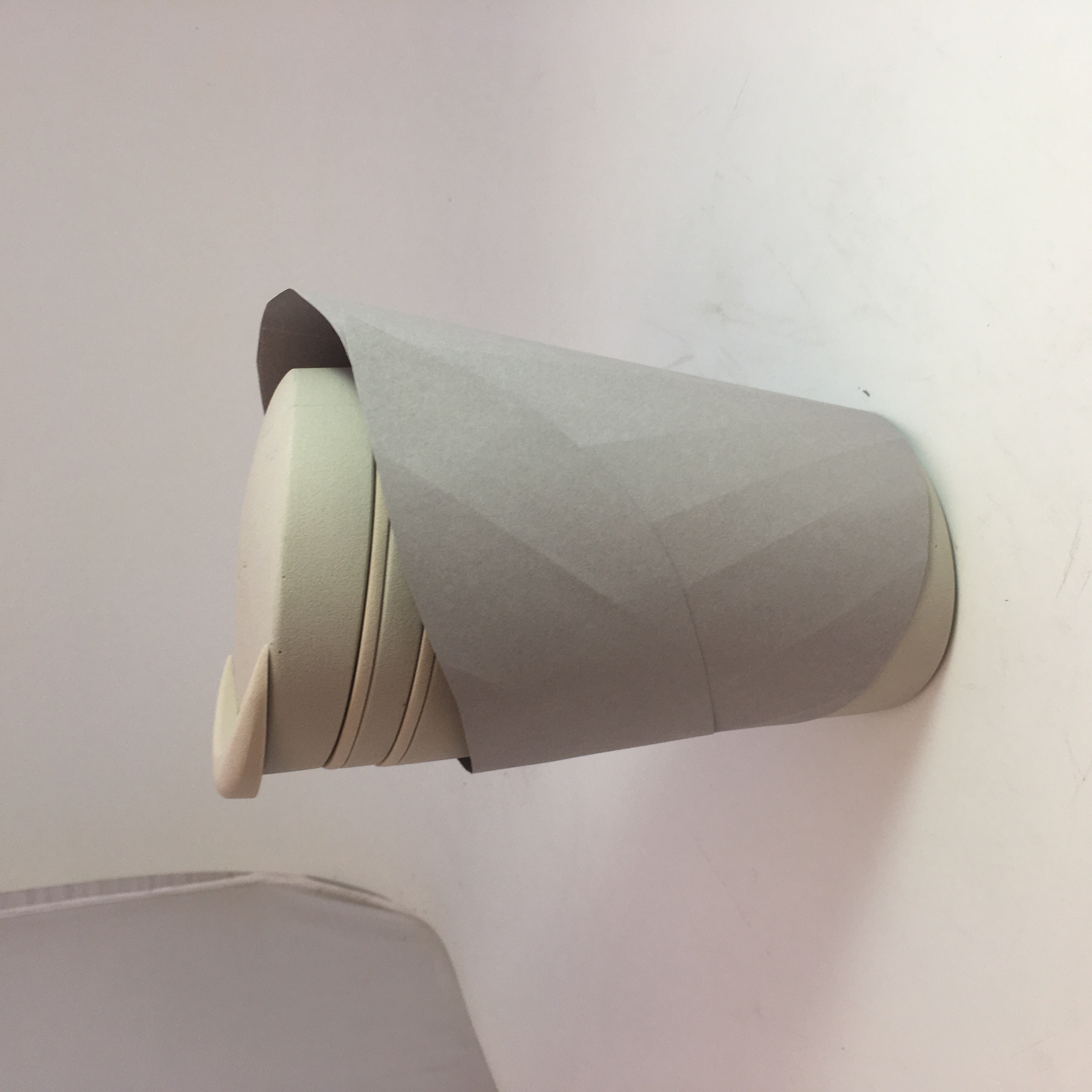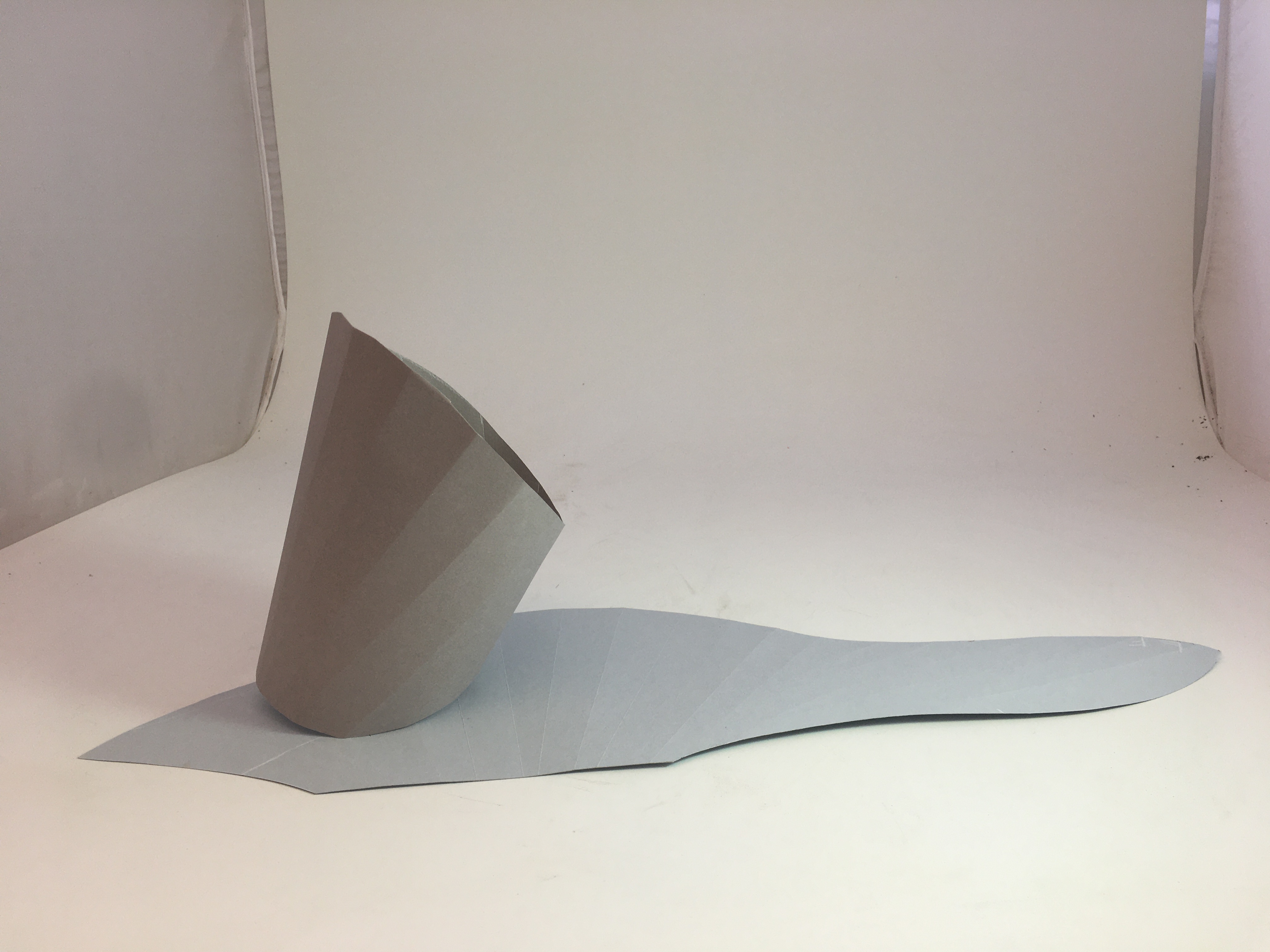 Form Model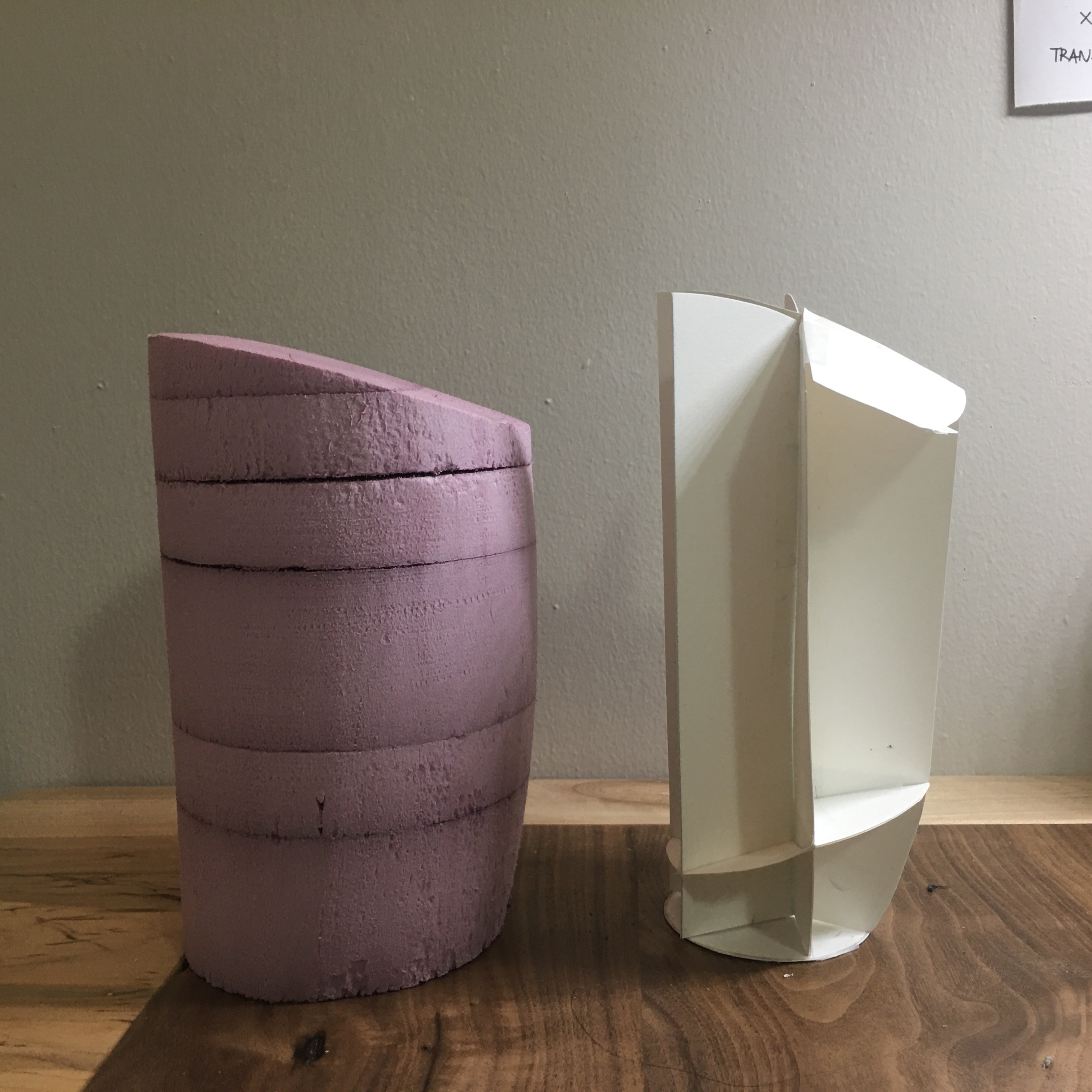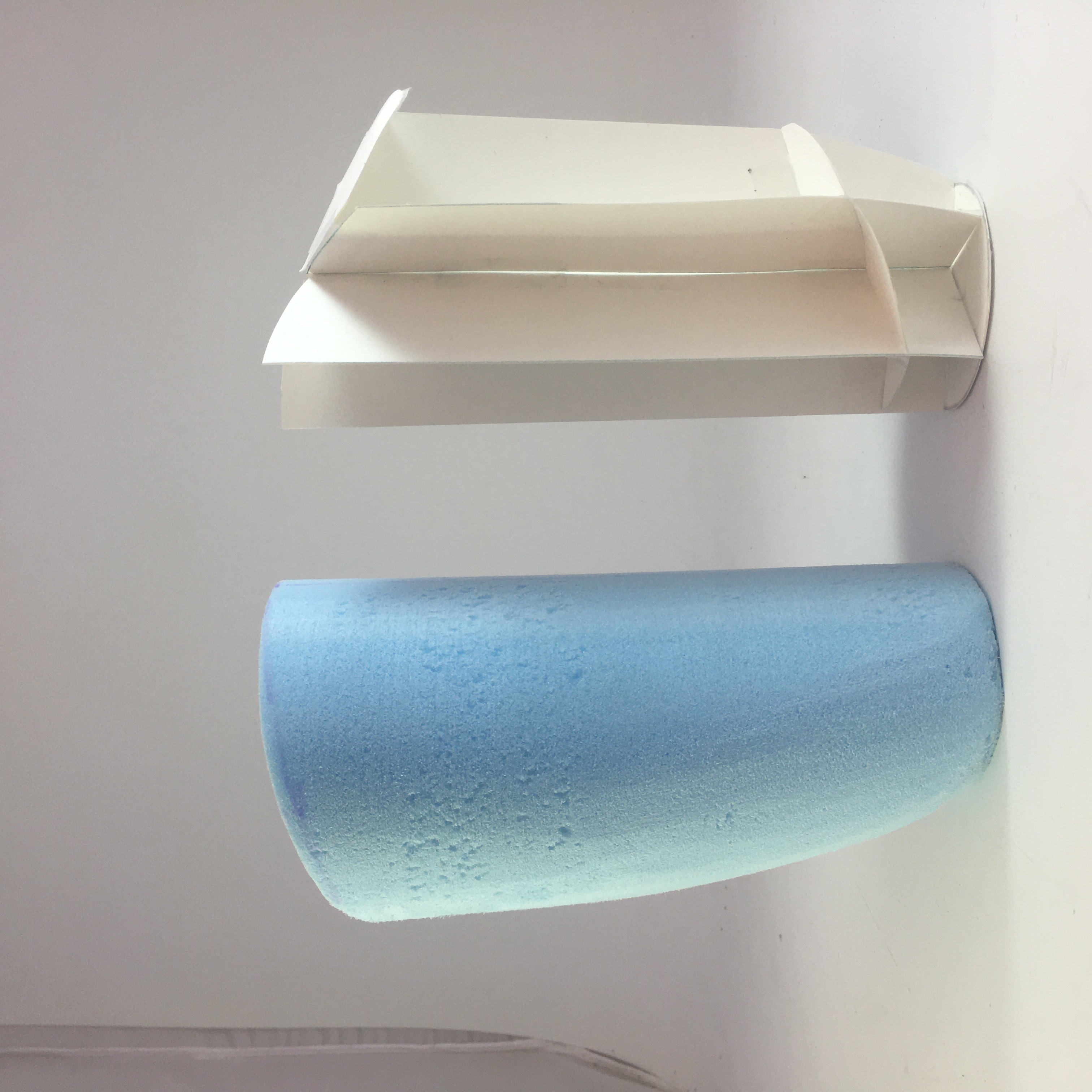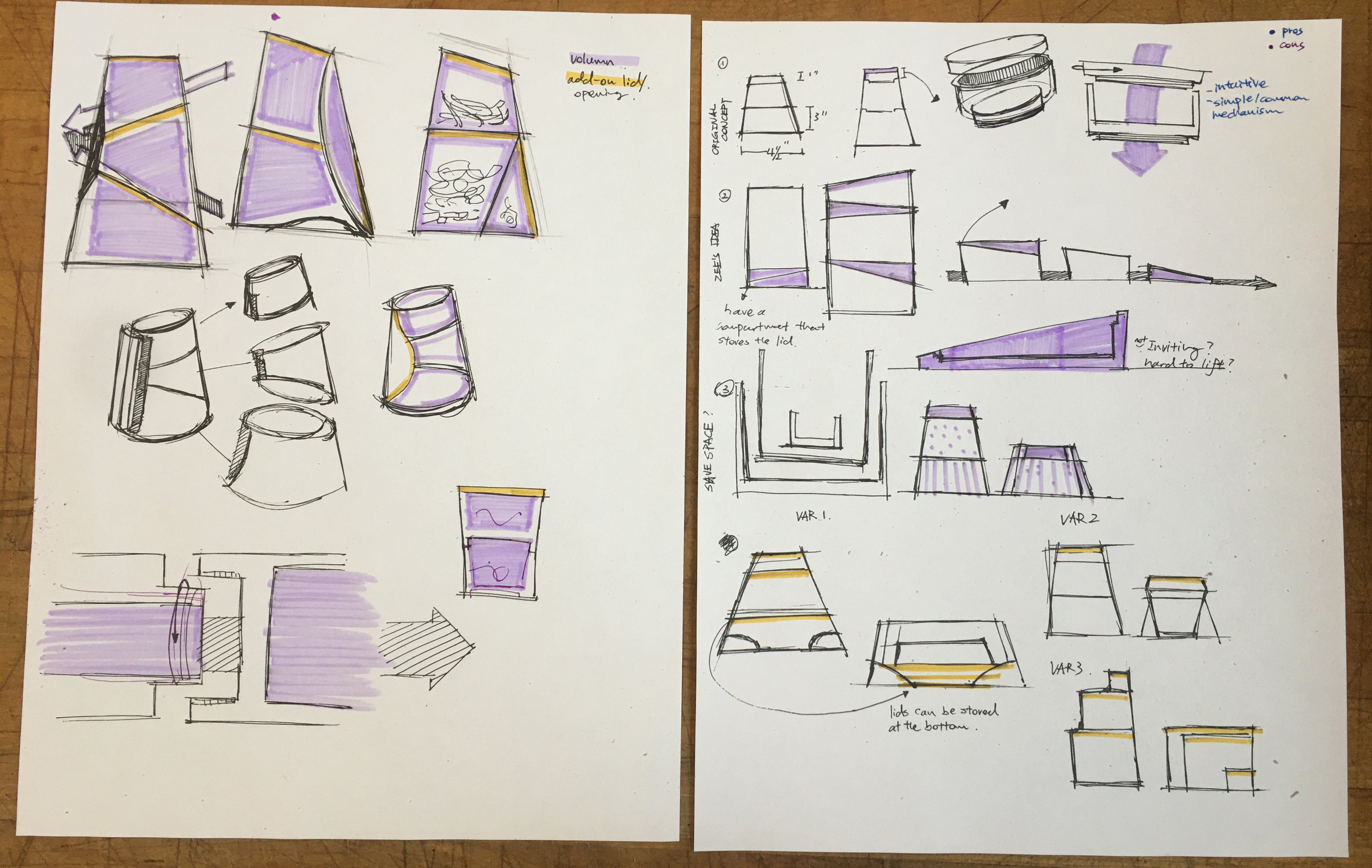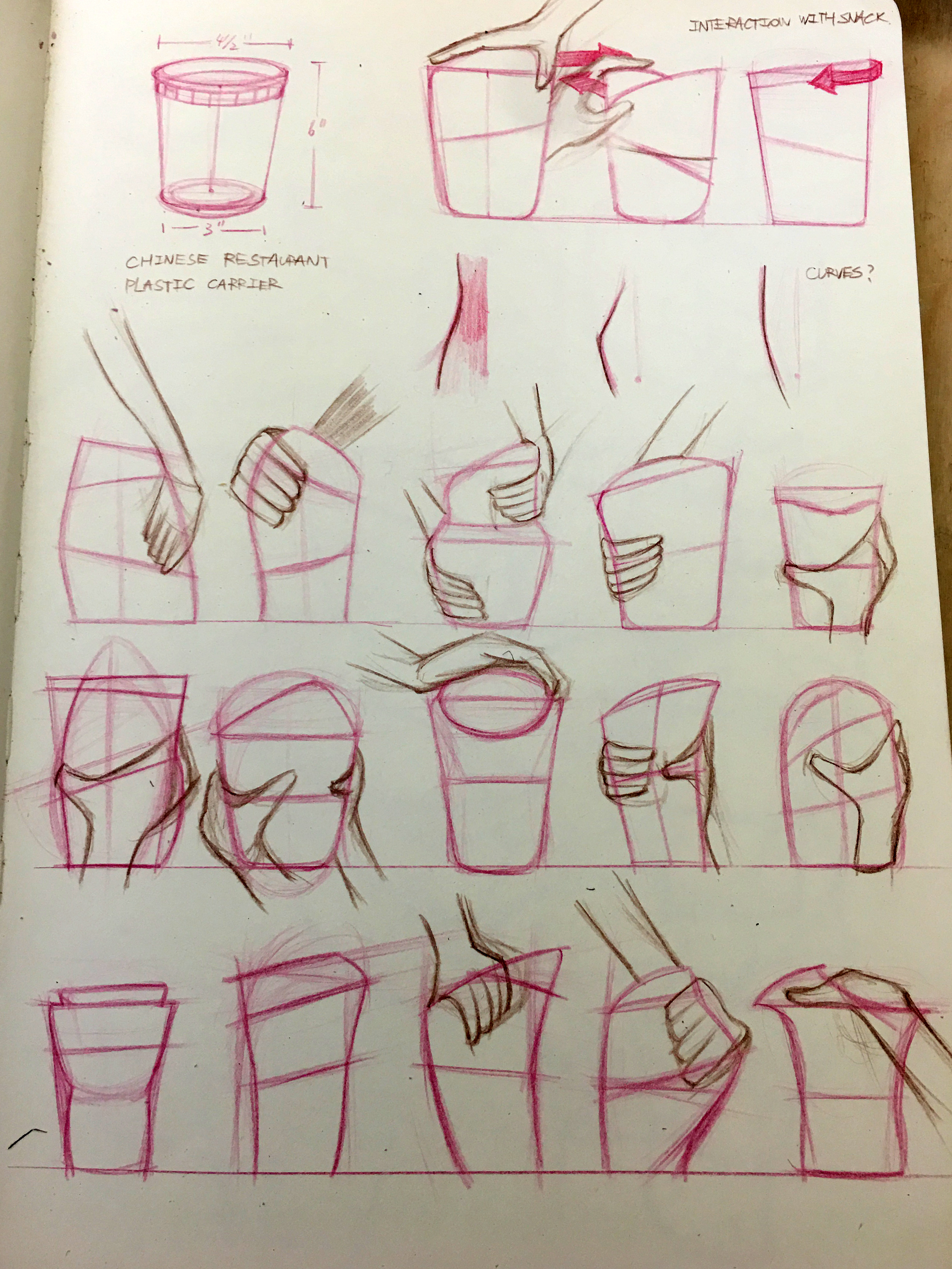 Early Explorations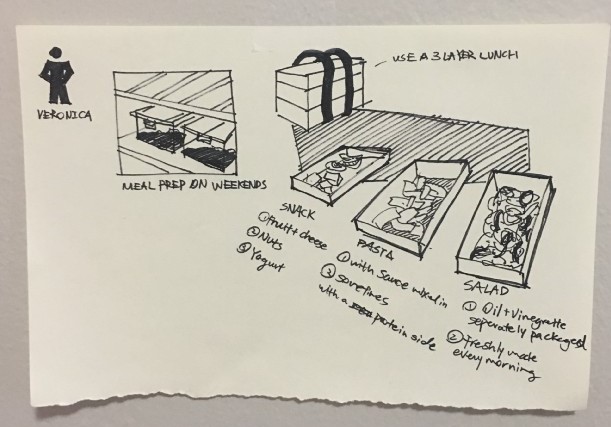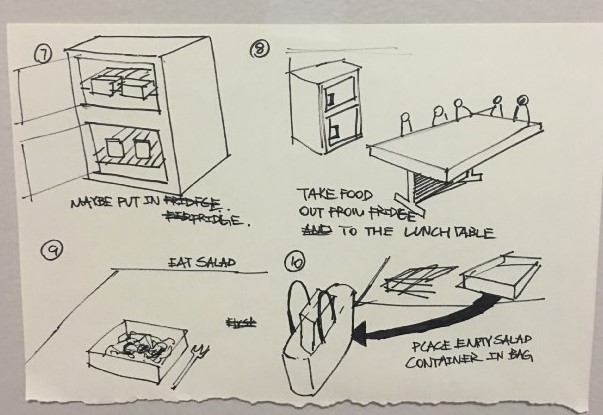 Task Analysis Notes







I conducted multiple interviews with office workers who eat lunch frequently with their boss and collages. I analyzed their tasks from preparing a meal to enjoying the meal, then to packing up their lunchbox. Through these interviews, I crafted new meal ritual and sat peremeters for my design.